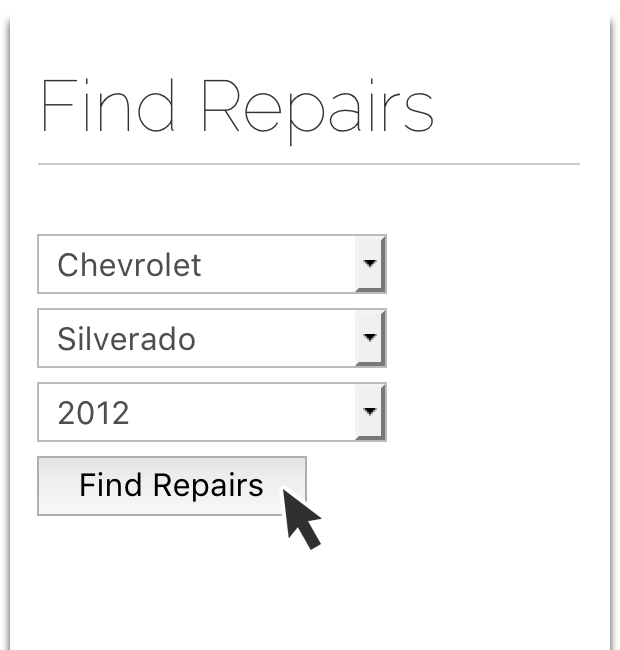 We've made it easy!
Find your Make, Model and Year to find the repairs available for your vehicle.
Customer Testimonial
Incredibly happy with the service from Cluster Fix! From the excellent YouTube video explaining the removal of the gauge cluster to the quick turnaround time, I could not be happier with the service provided! All contact with Cluster Fix was polite, professional, and prompt.
Thank you!!
Jason E. - Nevada
In most cases rebuilding your cluster is a better option than replacing it.
We've compiled a short list of reasons why you should rebuild instead of replace.
Customer Testimonial
Thank you very much! The repairs on my cluster were done in one day!! My Nissan Frontier was back up and running in a week! You rapidly replied to texts and emails, changed my shipping.
Ron
What is the
Cluster Fix

difference?
About Us
Cluster Fix provides high quality speedometer repair, gauge repair, instrument cluster repair and other electronic dash repair services to new and used car dealers, repair shops, state and city fleets and private owners around the world.
In an effort to maintain our high caliber service we do not take the assembly line approach to our repairs, but dedicate the appropriate amount of time into each individual repair and final testing in an effort to give you the highest quality repair for your money. Each repair is unique in itself and some units require more attention to detail, extensive troubleshooting time and longer bench test run times in order to ensure your unit is fully repaired to our satisfaction and working properly before it is shipped back to you.
Average turn-around time on repairs varies depending on work load but is generally 5 - 6 business days starting the day after we receive your unit in our facility so please plan accordingly.
For re-sale customers: Wholesale rates will be applied after repair has been processed and if you are pre-paying, you will be reimbursed the difference once your repair is invoiced. Contact us for wholesale pricing if it is needed prior to doing repairs.
Average shipping time across the United States is 2-3 days when using Priority mail and only 1 day for Northwest customers when using FedEx Ground or 2-5 days the further you get from the west coast. Express shipping service is 1-2 days.
Notice to International customers: International customers will be liable for any incoming / outgoing tariff fees. Since you are sending your unit in for repair and return there should be no fees, but placing a high value on your package (generally over $250 USD) you may attract fees. When filling out your Customs form, please select sender pays all fees and list the item as a repair and return.
Cluster Fix is owned and operated by Shannon Johnston, an Advanced Master ASE Certified automobile technician with over 30 years of experience in the field of automotive repair. In addition to professional training, Shannon has diagnosed and repaired thousands of electrical system problems in all manner of vehicles. This knowledge and experience goes into the repair services we provide to give you the best possible, high caliber repair service for your money.